When a wisdom tooth partially erupts, food can get trapped in the gums surrounding it. This can lead to bacteria growth & serious gum infection. Wisdom teeth that are impacted & remain tucked away can lead to problems such as tooth decay, infection, damage of the neighbouring tooth, infections & can in some instances form tumours or cysts.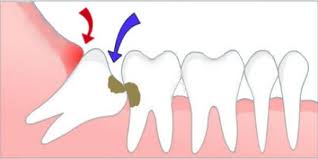 At A+ Dentists, we carry out a full assessment of your wisdom teeth.
An estimate of our fees are as follows:
Consultation: $55
Single Digital Xray: $20 (might not be required if an OPG X-ray is taken)
OPG (Panoramic) (Full mouth X-ray) : $95 (required for assessing complexity of wisdom teeth removal)
Simple wisdom tooth removal: $250
Moderate complexity wisdom tooth removal: $450
Complex wisdom tooth removal: $650
I.V Sedation (if required): $350
Any follow-up appointments required (e.g – for removing stitches/sutures & to assess healing) will be free of charge.
We can provide either 3 or 12 months interest free finance with Q card. It is very easy to setup & can be done with our receptionist at the clinic itself. In most cases, you get instant approval within a day.
We also have Easy Claim Setup Online for Southern Cross Insurance holders
At A+ Dentists, we have Dr Edwin Ling who has done a lot of study in the area of oral surgery & wisdom tooth removal. He has both a Medical degree (MBBS) as well as a Dental degree (BDSc)
His special interest is in the area of wisdom tooth removal. Dr Edwin is well liked by his patients. They commend him on his gentle & reassuring manner, always making them feel comfortable & at ease.
Dr Edwin, our Dental Surgeon is at the clinic once every 4-6 weeks. His next clinic session is on the 4th &  5th of May, 2018 (Friday & Saturday). If you are considering having your problem wisdom teeth removed or just want an opinion on your wisdom teeth then please email us or give us a call so we can book you in for a consult with one of our Dentists before the 5th May. This way we might be able to get you in on 4th or 5th of May if you decide to go ahead with your Wisdom teeth removal (subject to appointment availability)
You can see our Clinic Reviews on Google here goo.gl/k4HYSu
For wisdom teeth that are likely to cause problems, we recommend that the ideal time for removing wisdom teeth is between the ages of 17-25 years. People who get their impacted wisdom teeth removed when they are young, in general, have lesser risk of complications and the healing period is much quicker.
Most people are concerned about what happens after the teeth are removed.
In terms of post op care, for the:
First 3 hours: be cautious with hot/cold foods due to the local anaesthetic making your lips numb.
First 3 days: apply an ice pack to your face as swelling continues to increase over first 3 days. The amount of swelling experienced can be quite individual. Most swelling settles within the first 10-14 days.
Regular paracetamol and neurofen at this stage is expected. There may be small amounts of bleeding mixed with saliva.
First 7 days: stay on a soft diet to avoid chewing on the swollen gums, Gentle warm salt water or chlorhexidine mouth rinses every 4 hours from the 2nd day will prevent food trapping in the wound that can cause an infection.
Time off work depends on the complexity of the case. Generally young patients take a day to 2 days off if they are self employed or need to return to work urgently. A Medical certificate can be issued for up to 1 week for all 4 wisdom teeth removed.
We are a well established dental clinic located in Howick in Auckland & are proud to be serving the East Auckland Community – Howick, Cockle Bay, Highland Park, Half Moon Bay, Pakuranga, Botany, Botany Downs, Dannemora right through to Flat Bush, Ormiston, Bucklands Beach as well as the wider Auckland regions.
Contact us to to find out more.